Trujillo is the third largest city of Peru. A tourist attraction because of its archelogical sites, beaches, food, dances, great weather, among others.
If you are in Trujillo, Peru, or are planning to travel there, we have an EXCELLENT Spanish instructor for you. His name is Ronald Flores and he is available for private (one student), semi-private (two students), or group (three or more students) classes. We have included Ronald's bio below.
Per your Spanish classes, if you are starting from scratch, Ronald will make you conversational in past, present and future with only 24 hours of instruction. If you already have some Spanish language background, and are looking to improve your conversation skills, sentence structoring, better understanding and application of the tenses, and/or would like classes tailered towards your specific needs… Ronald is your guy!
Please fill out the form below. We will follow up with class options for you and tuition rates.
About Ronald Flores


Ronald was born and raised in Cusco, Peru. Ronald joined the Spanish Language Center team in Chicago back in 2006. Since then, he has been fully trained to became a certified instructor with our teaching methodology (Cortez Method™) and has been capable to teach all levels for many years now (Introductory, Beginners, Intermediate and Advanced).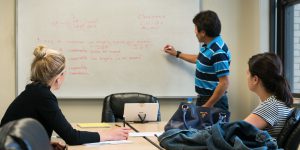 Comments
comments